Industry-Leading Provider of First Aid Kits
Company Profile
For more than 55 years, we have been bringing first aid and safety products to the workplace. Our commitment is to provide quality products, prompt service, friendly and knowledgeable customer service. We will continue to innovate new products, update current products, and listen to your ideas.
Certified Safety is WORLD WIDE with distributors in many countries as well as in every major city in America – thanks to you, our customers.
Every First Aid Kits & Cabinets meet the new requirements set by ANSI Z308.1:
Mouth-to-Mouth Barrier; Must be a 510 (k) Class 1 Medical Device
Eye Wash is a snap-off top to prevent cross-contamination
Cold Compress; Instantly activates and lasts for 20 minutes
Burn Dressing
Gauze Roll
Scissors
Eye Pads
Hand Sanitizer; Though suggested in previous standard, is now mandatory
Certified Safety First Aid Kits & Cabinets
Class A designed for common workplace injuries
Class B designed for high risk work zones
Class A & Class B promote workplace compliance
Class B cabinets include Bloodborne Pathogen KitCFR 1910.1030(d)(3) (56 FR 64175)
Easy to maintain, easy to refill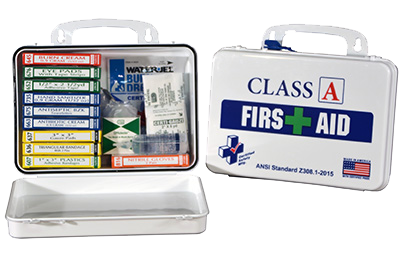 FIrst Aid Kits
Unitized first aid kits stay neat and organized, fitting tight to prevent shifting
Contents are individually boxed and packaged
Single-use packaging ensures uncontaminated product for treating injuries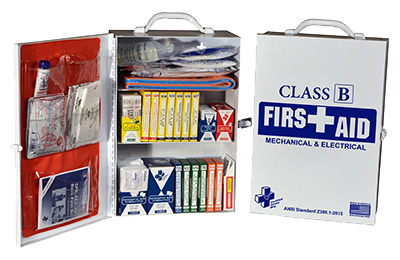 Industry-Regulated First Aid Cabinets
Certified to meet industry-specific compliance standards
First Aid Cabinets
Heavy Duty Cabinets
Filled with a large variety of high-quality first aid products
In-house print shop can customize any logo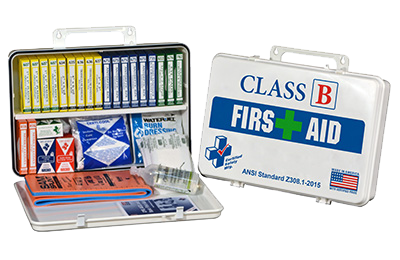 Class B First Aid Kits
Designed for High Risk Work zones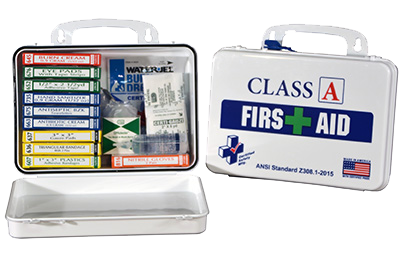 Industry-Regulated First Aid Kits
Industry-specific regulated kits.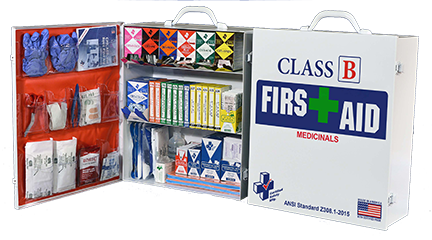 Class B First Aid Cabinets
Designed for High Risk Work Zones
Heavy Duty Cabinets
Contains Bloodborne Pathogen Kit