World-leading respiratory technology
Company Profile
Fisher & Paykel entered the respiratory care market in 1971 with the development of a unique respiratory humidifier system for use in critical care. Fisher & Paykel offer a broad range of products and systems for use in respiratory and acute care and in the treatment of obstructive sleep apnea (OSA).
AIRVO™ 2 System
The AIRVO 2 system utilizes leading-edge technology to provide an effective and versatile solution for delivering Optiflow™ Nasal High Flow in all areas of the hospital.
Humidifier with integrated flow generator
The AIRVO 2 system features a humidifier with integrated flow source that comfortably delivers high flows of air/oxygen mixtures to spontaneously breathing patients, through the unique Optiflow™ nasal interface.
The AIRVO 2 with its wide range of accessories is an integrated system providing versatility, mobility and convenience.
AIRVO™ 2 Across Hospital
The AIRVO 2 system enables the transition of Optiflow™ across critical and non-critical areas of the hospital. Piped air is unnecessary and flows can be delivered up to 60 L/min. Clinicians can control the maximum flow and FiO2 delivered by the device to suit their requirements in non-critical areas. To continue the therapy once discharged from the hospital, the F&P myAIRVO™ has been specifically designed for the needs of patients in the home and for long-term care.
Download the new AIRVO™ 2 simulator app for free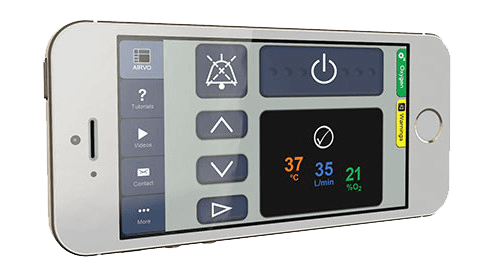 Use the app to:
Learn how to use the AIRVO 2
Teach others how to use the AIRVO 2 quickly and easily
Test your skills
Optiflow™ Nasal High Flow Therapy
When introducing advances in patient care, our team supports clinicians through every step of the process.   HFNC, HFOT, NHF… While many acronyms have been used for this therapy, one name stands out as the way to deliver it: Optiflow
Optiflow Nasal High Flow from Fisher & Paykel Healthcare is at the forefront of the field, featuring in hundreds of publications and appearing in such prestigious journals as the NEJM and JAMA.
Compare Low Flow Oxygen with Optiflow

Corley et al. 2011 showed once Optiflow is commenced in patients post-cardiac, there is a significant increase in areas of lung aeration. This change reflects enhanced lung volume and tidal volume.
The researchers determined a strong correlation between airway pressure (Paw) and end-expiratory lung impedance (EELI). Paw increased by 3.0 cmH20 and EELI increased by 25.6%. EELI is a surrogate for end expiratory lung volume.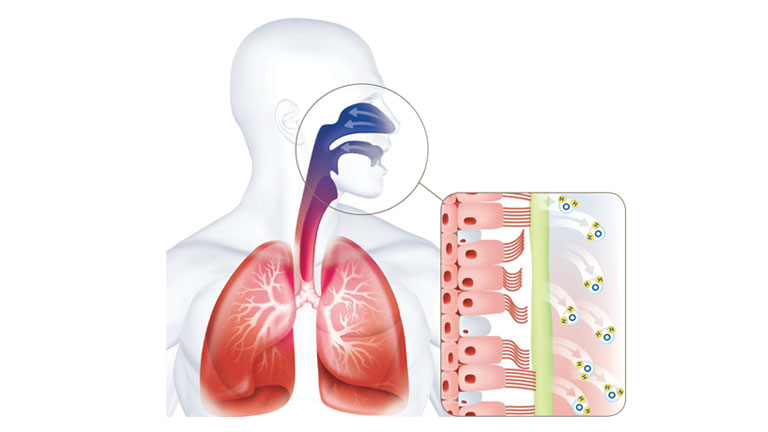 Airway Hydration
Improves Mucociliary Clearance. Delivering Optimal Humidity Optimal humidity emulates the natural balance of heat and moisture that occurs normally in healthy lungs and is essential to maintain physiological stability in already compromised airways. Humidity enables the comfortable delivery of high flows.
Mucociliary Video Microscopy
Conditioned gas reduces drying of the airway epithelium which helps maintain function of the mucociliary transport system, clearing secretions and reducing the risk of infections. This video microscopy shows the negative impact of reduced humidity on mucociliary transport.
Effective Mucociliary Transport
Mucociliary clearance has been shown to significantly improve after 7 days of humidification.
Neopuff
NeopuffTM is a T-Piece resuscitator designed by Fisher & Paykel Healthcare to deliver controlled, consistent and precise pressures, independent of operator experience. It can provide assisted respiratory breaths to neonates and infants in the delivery room and NICU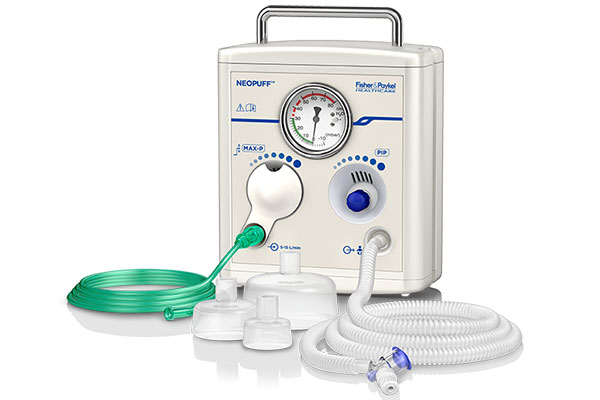 Adult Evaqua 2
Evaqua 2 ventilator breathing circuits combine traditional dual-heated circuit technology with patented technology in the inspiratory and expiratory limbs to minimize condensation and promote a closed system. Microcell technology in the inspiratory limb insulates humidified gas as it is delivered to the patient, and breathable expiratory limb technology allows water vapour to diffuse through the wall of circuit to protect the ventilator and minimize mobile condensate.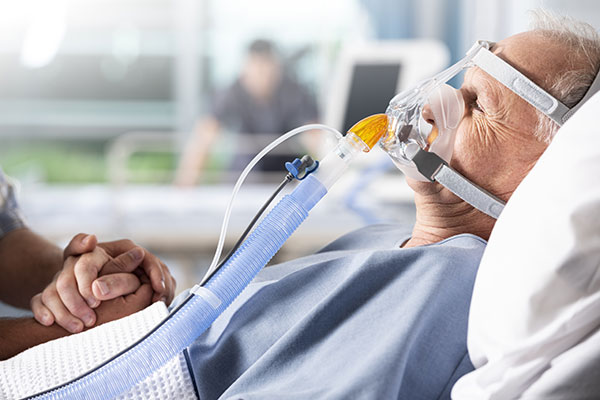 Infant Invasive
Fisher & Paykel Healthcare offers humidified circuits designed to deliver heated and humidified gases to neonates and infants during invasive ventilation. The circuits incorporate Evaqua 2 technology which helps minimize mobile condensate in the expiratory limb by allowing water vapour to diffuse through the tubing wall.